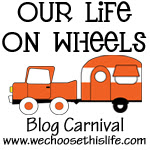 If this is your first visit to We Choose This Life -- Welcome!
Starting June 2012, a monthly blog carnival,
Our Life On Wheels
will be held here. Fulltime travelers will come together to share about a variety of topics. If you want to learn more about the carnival head over
here
.
Make sure you scroll to the bottom of the post the link up or check out others "RV Must Haves". And don't forget to check out last months blog carnival, "
A Day In the Life Of...
"
**If you have previously added the Our Life On Wheels :: Blog Carnival button, please head over
here
and use the updated button, the old one has a dead link. Thank you! **
------------------------------------------------------------------------------------------------------------------------------------------------
Our Top 5 RV Must Haves
Our traveling family has been on the road for almost 3 years. We've had two RV's, both travel trailers. Over the years we've come to find many things that are MUST HAVES for this life on the road. Let me just tell you it was ridiculously hard to decide which RV must haves we wanted to include...when you fulltime RV most everything you have with you is a must have :)
Here are our TOP 5 (in no particular order):
1. Lightweight Non-Breakable Dishes:
We chose BPA Free, Melamine dishware. Our Laurie Gates dishes were purchased at Costco (4 place settings for around $25). I loved the color that they brought to the table, add in the fact that they are lightweight, inexpensive and unbreakable, we have never once regretted the purchase. When the time comes that we are needing new dishes I think I will go with
Zak Designs
, I am particularly fond of their Confetti Recycled Melamine line.
2. Magnetic Spice Tray & Magnetic Knife Rack:
Besides my Vita-Mix, these two magnetic kitchen items are a MUST HAVE. For the magnetic spice tray, I purchased a metal tray from a antique store (also can be found on Ebay) and then
magnetic spice tins
from Bed Bath and Beyond (you can get them at World Market also). The
magnetic knife rack
was purchased at Ikea. Just an FYI the spice tins nor the knives are removed for travel, also both the spice tray and the knife rack were installed with regular screws and a drill (or screwdriver, can't remember which).
3. Mini Broom & Dust Pan:
Yes, an RV is a small space, therefore easier (and quicker) to clean than a house. But we are EIGHT bodies coming and going, eating, making messes, we have to sweep & vacuum frequently. I've found that a big broom and dust pan just take up too much space, not to mention they don't work well in the small areas, like the bathroom, around beds, etc. We love our
mini broom and dust pan
and for $1.99 at Ikea, you can't go wrong. We use it MULTIPLE times a day. It lives under the kitchen sink for easy access. Plus, an added benefit, even my 3 year old can sweep up crumbs from lunch or sand from the playground :)
4. Portable RV Waste Tank:
If you plan on staying places that don't have full-hookups (which include many Thousand Trails, state & county parks) and plan to be using a dump station, you have got to get one of these. When your tanks are full, you no longer have to hookup your trailer and pull it around to the nearest dump station. Just fill up your
22 Gal. Original Tote-Along
, hook it up to your hitch and drive the portable waste tank to the nearest dump station. You could also have your 8 & 10 year old try to tote it over, that makes for quite the entertainment. When not in use our rides on our back ladder attached with some strappy tie downs (technical I know).
5. RV Stabilizer and Leveler Blocks:
Long gone are the HEAVY chunks of wood we use to haul around. For about 18 months we've had the
Lynx Leveler Blocks
. We use them to under our tongue and stabilizer jacks and to level the trailer side to side. We have two sets of 10, they are lightweight, easy to store and very useful!
*This post contains affiliate links*
-------------------------------------------------------------------------------------------------------------------------------------------------
Thank you for joining us and come back next month for
August 2012 :: "Meals on the Road" How do you cook in that tiny RV kitchen and fit your food in that tiny RV fridge? What are your favorite on the road meals? How often do you grocery shop? Do you have a favorite recipe or kitchen item you couldn't live without? We want to know about it!