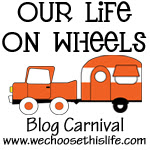 If this is your first visit to We Choose This Life -- Welcome!
Starting June 2012,a monthly blog carnival,
Our Life On Wheels
will be held here. Fulltime travelers will come together to share about a variety of topics. If you want to learn more about the carnival head over
here
.
Make sure you scroll to the bottom of the post the link up or check out others "A Day In The Life Of..."
---------------------------------------------------------------------------------------------------------------
A Day In The Life Of .... Eight on the Road
We are a fulltime traveling family of eight (soon to be nine), we've been traveling for almost 3 years. I get a lot of questions, pointing toward the fact that we are on an extended vacation or our live is always perfect. I will say that we love our life and choose to live it this way, it is LIFE...it has ups and downs, twists and turns and many bumps and bruises. Albeit it is absolutely wonderful to not have our evenings and weekends taken up by yardwork, housework and garage cleaning out. Living this smaller, simpler life affords us to not have Daddy working full-time, year round (he does work and A LOT, just not near as much as he use to), which means we have much more family time and honestly that is our FAVORITE part about this life.
Here is a sneak peak into our life...24 hours, 8 people, living in 350 sq ft --- always an adventure.
Saturday
6:00pm
:: Dinner prep. Mommy is making grilled onion and cheese quesadillas, Daddy is inside making a green salad and children are playing outside, some are setting up for our campfire. Children pitch in to set the table, serve food and drink and then its time to EAT!
7:05pm
:: We are finished with dinner and we're onto cleaning up. Children clear their own plates and everything else from the table, Daddy starts dishes and Mommy puts Lyric to bed. Tonight will be a bit different, we're having a campfire (happens a few times a month) so bedtime won't be quite as early as usual.

7:20pm :: Children play indoors(and make sure their room and beds are CLEAN) while we wait for it to get cooler and the sun to go down, currently its 88 and SUNNY.

7:51pm :: Baby Lyric is asleep and mommy has finished dishes. Now Mommy heads outside to see how the campfire is coming along.


8:35pm :: Campfire is roaring, sun is setting. We decide to do our evening read-a-loud around the campfire..we are reading Farmer Boy. Everyone is anxiously awaiting s'mores (which happen even less than campfires). Mommy sets her timer (we use timers a lot) for 5 minutes, then its s'more time! Tonight was a successful campfire, nobody was burned by flaming sticks or marshmallows :) We have FOUR boys who love to play with the fire, please tell me my children aren't the only ones!
9:15pm :: Pjs, teeth brushing, prayers and bedtime. Yes, we still brush all of our children's teeth and yes, they really line up. Most of them brush their own in the morning and either mommy or daddy do it at night.



9:30pm :: Children are asleep. Mommy and Daddy enjoy the quiet.
7:15am
:: Our birthday boy, Jericho, greets us with a loud "Happy Birthday". Big Boys (Aidan, almost 10 and Coda, 8) share jobs of putting away dishes and taking out trash (from the kitchen and bathroom). They are also in charge of teaching another sibling a few times a week. Everyone makes their own beds, some better than others ;)
8:30am
:: I always have a few "helpers" in the kitchen. Special birthday breakfast is made, homemade waffles and fruit. Dishes again :)
9:49am
:: This is one of those times that we need two bathrooms. 3 of us need showers, 4 of us need to use the bathroom and all 8 of us need to brush our teeth.
10:30am
:: Just finished bathing Téadora and doing her hair. Got Jericho and Lyric dressed. Aidan, Coda and Dillon are ready for the day. Children are doing their own thing inside. Daddy is cutting up watermelon for Jericho's birthday BBQ later today and I am heading for the shower.
10:45am
Ok, just kidding, I decided I better wrap Jericho's presents, so I'm stowed away in my room wrapping. Jericho opened his presents. All six children are busy playing and helping with the new toys. I am FINALLY headed for the shower.
11:45am
:: Can't have lunchtime without a green smoothie. Today's smoothie is orange, peach, pineapple, strawberry, mango and LOTS of spinach. Perfect lunch.
12:15-3pm
:: We have become fast friends (tends to happen in the traveling world) with another family at the RV park, they are joining us today. We spent the afternoon exploring a nearby
family fun park
.
3:30pm :: Back at the RV park the children are excited about the birthday BBQ and cake, so we gather everything we need and head down to the pavilion. April was undecided as to what to get Jericho for a birthday gift. She has a true gift in the art of cake making and surprised Jericho with the BEST Thomas the Train cake I have ever seen. I love homeschooling/rving children...besides Lyric, Jericho is the next youngest out of the 10 children (in our family and theirs), all of the children spent the day doting on Jericho, never annoyed with him, but continually doing what they could to make sure his birthday was all about him!
6:00pm
:: We're home now, unloading, cleaning up and recentering. Its been a busy day. The children aren't done yet, they are set on going to the country band concert at 7pm. I'm not so sure I'm up for that, but the laundry room is right next to where the band is playing (and laundry needs to be done), so I guess we'll go.
7-8pm
:: Children are running around, line dancing, playing in water spigots and climbing trees. Four loads of laundry are washing. I sit down with my glass of ice water (mostly ice), listen to the band and watch Daddy and Téadora dance.
--------------------------------------------------------------------------------------------------------------
Thank you for joining us and come back next month for
Details on Next Months Our Life On Wheels :: Blog Carnival Topics:
July 2012 :: "RV Must Haves" What are RV must haves? You can tell us about features on your RV, mods you've completed or that handy dandy kitchen utensil that every RVer must have. The sky is the limit. But we all what to know what you couldn't live without on the road.